100's of models in stock
Specialists in rare models
Next day dispatch
Run by enthusiasts
New models added weekly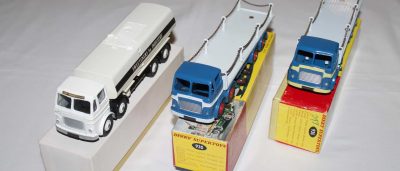 Three Dinky Toys Rare Leyland Lorries
Large lorries produced by Dinky Toys have always been popular with collectors however the attention has often been concentrated on Foden & Guy lorries. Although each of these brands had various styles and colour variations producing some real rarities the Leyland lorries produced some gems when it came to rarities. Not forgetting Bedford and the smaller Leyland Comet Wagons I am going to identify on the rarities produced from the Leyland range.
Read More >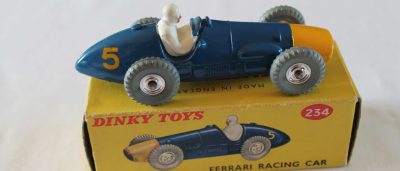 Dinky Diecast Toys
If you are looking for an incredible treat, whether for yourself or a loved one, you cannot go wrong with dinky diecast toys. If you have never experienced the thrill that comes with owning one of these toys, you are definitely missing out. The nostalgia of the cars and other models that are available is incredible, and we will reveal everything you need to know below.
Read More >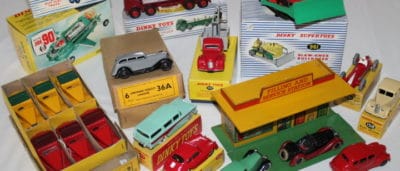 An Introduction to Dinky Toys
In this introduction to Dinky Toys from myself Phil Silvester, I cover the history and humble beginnings of the now infamous brand, identify the difference between pre and post war models and the confusion surrounding them and l take a look at the current collectors market as we move into 2020.
Read More >
Dinky Toys
On the 15th May 1863 a child was born, who eventually in his adult life would bring joy and pleasure to thousands of children and adults alike. His name was Frank Hornby.
This joy of course was similarly found in other toys such as Electric train sets, Meccano and other construction sets, soldiers and Scalextric racing car sets but Dinky toys had to be one of the most successful products for a period of 30-40 years.
Tootsie toys possibly gave the vision of cast toys to Frank Hornby to provide a similar cast metal model for the children's toy market and similar models were launched at this time in the early 30's in Germany, branded 'Marklin', and in France 'Solido'.
There were quality issues that would occur years later with some of these early lead models which caused the cast to expand and crack, which we now refer to as metal fatigue. Other publications would be able to expand on this far better than I can. Due to the second world war in 1939, there was a halt on production as all factories producing various metal components were needed to produce ammunition for the war effort.
Dinky Toys monopolised the market for a number of years until a new brand was introduced by Mettoy and Corgi Toys were born in 1956. Three years earlier in 1953 Matchbox released their first 1.75 series miniature and this created serious competition for the Dinky brand. Sales were naturally affected and by the mid 1960's sales were seriously declining. In 1964 Lines Bros were the first of what would prove to be several buyouts and takeovers of this famous toy company and brand and its popularity would never recover to its former success.
However a lasting legacy was born and the child became an adult and the adult became a collector as many would want to retain and bring back those wonderful childhood memories.