The large Leyland lorries
Large lorries produced by Dinky Toys have always been popular with collectors however the attention has often been concentrated on Foden & Guy lorries. Although each of these brands had various styles and colour variations producing some real rarities the Leyland lorries produced some gems when it came to rarities. Not forgetting Bedford and the smaller Leyland Comet Wagons I am going to identify on the rarities produced from the Leyland range.
The first model in the range of larger models was issued in 1956 the 934 Leyland Octopus Wagon in the familiar yellow and green.
Two years later the first 943 Leyland ESSO petrol tanker left the assembly line.
In 1964, six years later the Leyland Octopus Flatbed with chains arrived.
This article does not cover all models but concentrates on three very rare models produced through this casting.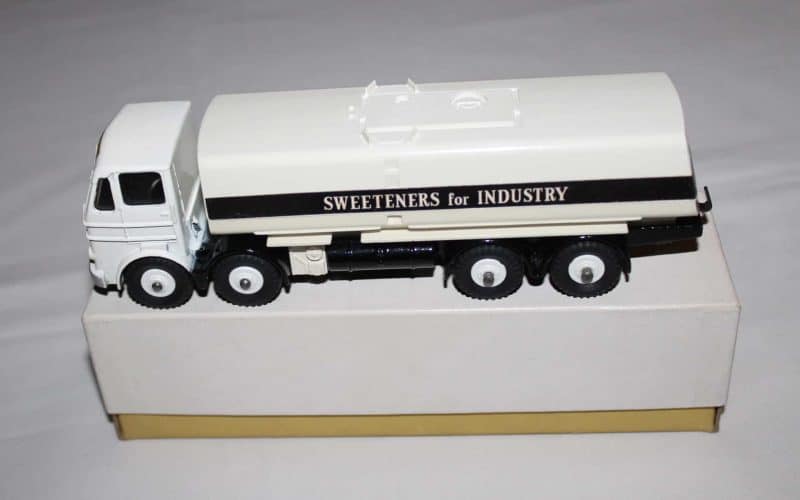 Leyland Octopus Dinky 944 Tanker 'Corn Products' 1963-64
Based on the second casting of the Leyland Petrol Tanker incorporating a plastic tanker shell a special promotional model was produced from the BP-Shell petrol Tanker. (Ist casting was Dinky 943 ESSO Petrol Tanker with metal tank)
Issued with a white cab, tanker body, white plastic hubs and black chassis, "Corn Products (Sales) Ltd" to front of cab and "Sweeteners for Industry" on black paper label decal band around tanker body -plain white lift off lid card box with yellow base.
Several have survived but are extremely rare with most surviving models tucked away in cherished collections.
A little bit of history
Two, Corn producing companies the Corn Products Refining Company and Best Foods, which merged in 1958 to become the Corn Products Company. The company's name was changed at a later date to CPC International Inc., one of America's largest food companies, which is a leading corn refiner as well as the producer of many of America's best-known and top-selling brands: Mazola corn oil, Argo corn starch, Hellmann's and Best Foods mayonnaise, Mueller's pasta, Knorr soup, Skippy peanut butter, and Thomas' English muffins, all CPC products. But as its name implies, CPC International is also a distinctly international company, producing more than 2,000 food products and several dozen wet-milled corn products at over 100 manufacturing plants located in 47 countries. In 1988 57% of the company's food revenues came from outside the United States, more than any other major American food company.
In 1963-64
A rare Dinky Toy promotional of very limited numbers was produced to given to representatives to pass onto various customers of Corn Products Sweeteners. These models are greatly sought after especially when in very nice condition.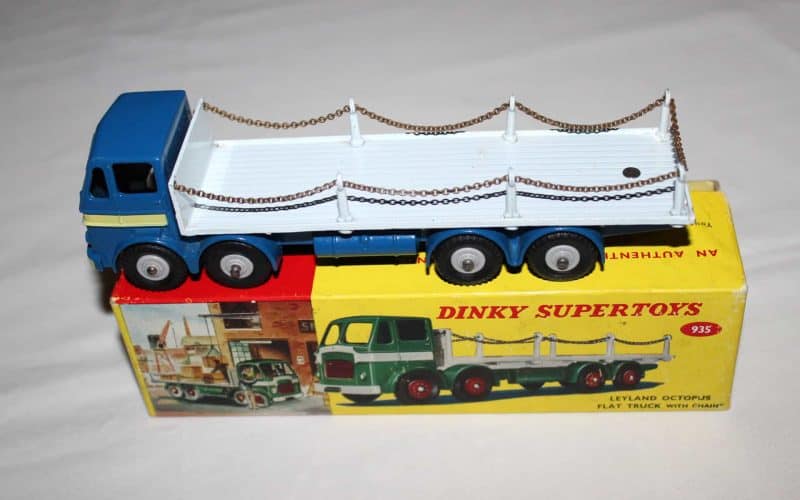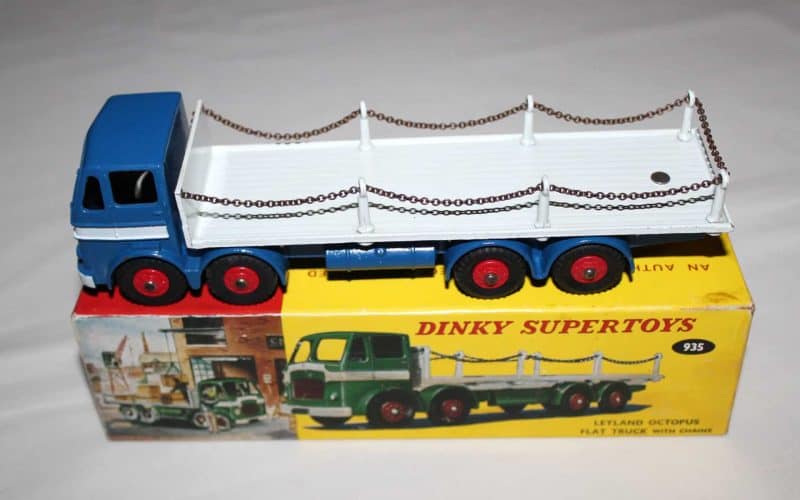 Dinky Toys 935 Leyland Octopus Flatbed & Chains. 1964-66
Always a hard model to find but when found is usually the green and grey example with red plastic wheels. A harder version is the same model colour but with grey plastic wheels.
Allowing for the fact this model was only produced for two years and late in the Leyland large lorry production the following are details of two very late issues and rare.
The first of these were produced with a blue cab and grey back with a primrose yellow cab stripe this model was fitted with grey plastic wheels.
A fine example was sold from a leading auction house this year (2021) for £8200 with a further 25% approx. buyers premium on top. I have seen several models over the last 30 years but this achieved a price far beyond the anticipated estimate.
However and possibly rarer than the 'Corn Products' promotional is similar to the above with blue cab-grey bed-grey cab stripe-red plastic wheels.
in my opinion this is the holy grail of the Leyland lorries. I have seen two examples over 30 years.
All 935 Leyland Chain lorries have a flat head riveted head making the back impossible to remove unless re-riveted.
My Dinky Collection
I have announced several times in the last two years that I am gradually selling my own extensive Dinky collection to my customers. Those of you that have asked me for a model have always received my own example if not held within my sales stock. My own sales stock is becoming low now and my collection reduced to half it's original size. Do please ask me for any Dinky model you seek and if I still have it, it is available to you.
Each of the three models above were recently in my collection but have now been sold. They can be viewed, by placing the model number into the search box on my website www.diecastgems.com and all models will be shown both sold and what is available across all makes with that reference number.
This article has been written by Phil Silvester
Diecast Gems
15 November 2021
---