100's of models in stock
Specialists in rare models
Next day dispatch
Run by enthusiasts
New models added weekly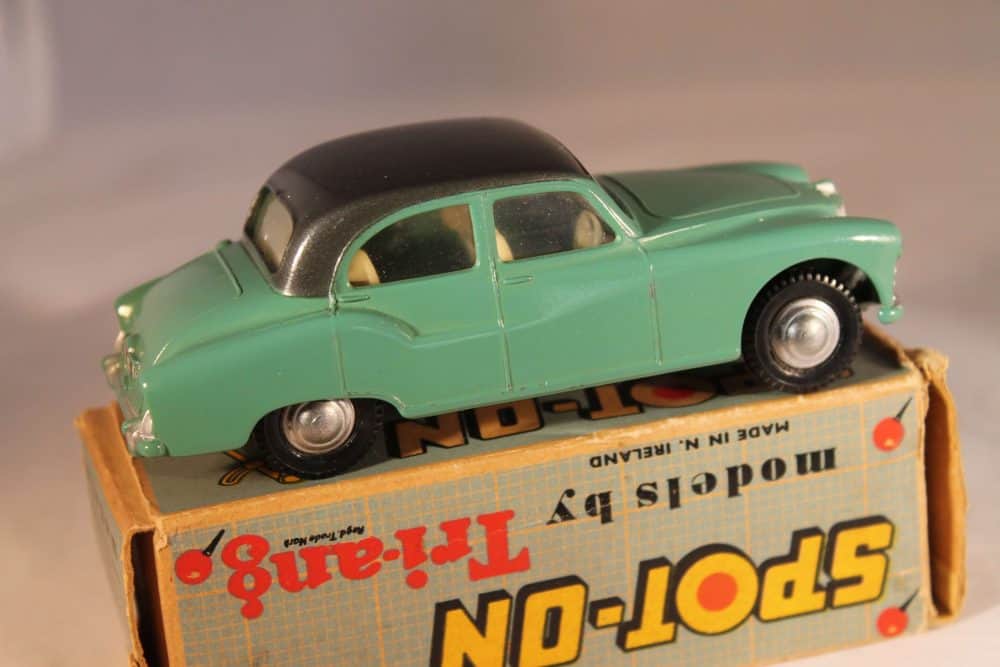 Description
This model is in the hard to find grey-green with metallic grey roof and an off white interior, windows, silver wheels and black tyres.
So hard to find these Spot On models in great condition but this one is close. Very presentable for the cabinet. Note; I acquired a collection of about 40 Spot-On cars from Australia some boxed some unboxed and many have been sold before getting to the website. This is one of the remaining twelve models.
Spot On made by Triang were originally launched in 1959 and produced in Belfast Northern Ireland. Their production was short lived and ceased when Triang bought dinky toys in 1967. Today they are highly sought after models by the collector. Good boxes are even harder to find as the construction was not as strong as those of competitor makers.
Issued:
1959-62
---
Item Condition
---
Very Nearly Mint
- Minor imperfections.
(All items graded out of 5)
Item Condition
The body work is exceptional with just an occasional box rub but there are no notable chips except one on the rear number plate edge. The silvering is very good but there is some under spray from the factory. This model does not have suspension however the rear left side wheel has collapsed but the model still rolls well.The base plate in grey has a small area un-painted at the rear. The wheels, glazing and tyres are all good.
---
Hundreds of
Models in Stock
We hold a vast collection of great quality stock ready to ship next day.
Every Item Inspected
& Described Honestly
Every item goes under the inspection lamp & prior to sale.
Next Working
Day Dispatch
We aim to ship your new collectable to you as fast as possible.
Run By Collectors
For Collectors
We pack every item sold ready 
for next day dispatch.