A Brief History of the Real Car
In October 1953 The VW Karmann Ghia was launched at the Paris motor show as a 2+2 sports coupe.
It had Italian influence as well as German and Luigi Segre who was an Italian designer and engineer lead the Carrozzeria Ghia team from 1953 until his death in 1963. The chassis and mechanics of the type 1 Beetle were used and Karmann who were coach builders created the hand built bodywork.
The production ran from 1955 until 1974 and a convertible was released in 1957, which also ran to 1974. More than 445,000 units were built in Germany and this does not include the Karmann Brazil which produced a further 41,600 cars locally for South America between 1962-75.
It was initially issued with a 1200 Beetle engine and later upgraded to a 1500cc engine, which increased its top speed from 75mph to 93mph.
Today there is an active Karmann Ghia owners club, and cars can be found in good condition either original or rebuilt for around £8,000-£25,000. Not built for speed but for style and relaxation, they continue to catch attention when you are fortunate to see one.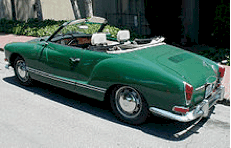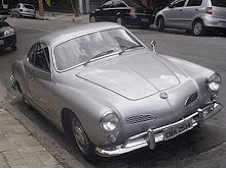 Dinky toys 187 VW Karmann Ghia Coupe - Issued 1959-64
This model was released in two, two tone colours of red and black or green and cream.
Interestingly, French Dinky also released this model initially under number '24M' and re-numbered it later that year to '530' and produced until 1962, but only in red and black. They had a wheel change near the end of its time from concave to convex.
Well, back to the UK issue.
The green and cream version can also be found with a much duller and darker green with cream all UK models supplied with silver spun shaped wheels.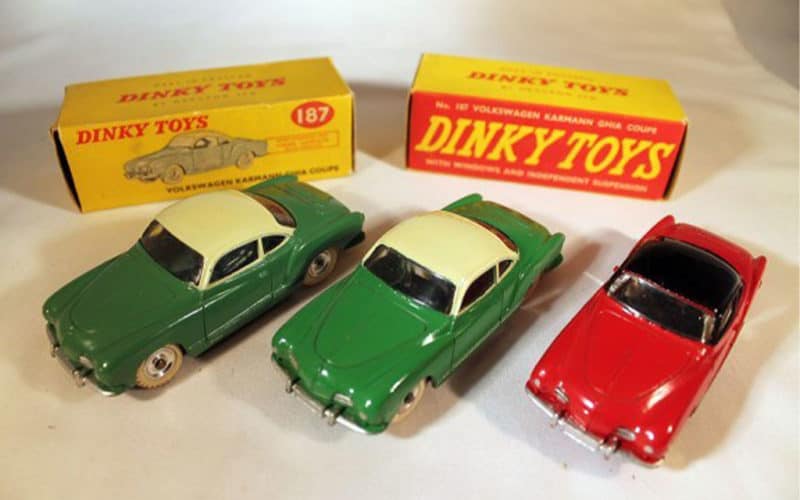 Note: the rare blue-green shade on the left.
Boxes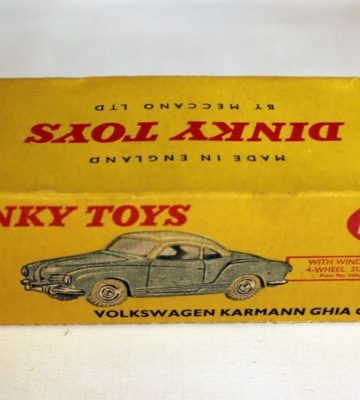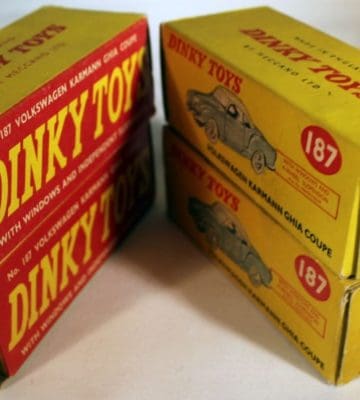 In my opinion, the most worthy point for the Dinky collector is the box.
At the very start of the models production, a few boxes were issued with a light yellow picture box before the recognised later red, yellow non picture panelled box replaced it. This box has to be one of the rarest Dinky boxes and a Holy Grail to many collectors.
Pictured below are the 3 different colours and the two box types, which I hope will interest readers of this article.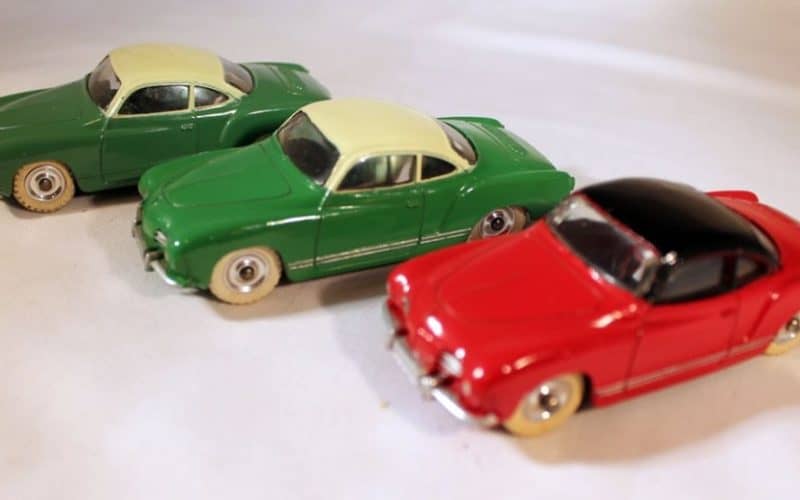 All models had silver shaped spun wheels, windows, a black gloss base and white 'M' tyres.
Green body with cream canopy, with early light yellow picture box. – £700-£800
Duller dark green body with cream canopy with type 1 picture box. – NPGP
Duller dark green body with cream canopy with type 2 box, non picture. – £700-£800
Green body with cream canopy, with type 2 non picture box. – £130-£170
Red body with black canopy, with type 2 non picture box. – £130-£170.
---