100's of models in stock
Specialists in rare models
Next day dispatch
Run by enthusiasts
New models added weekly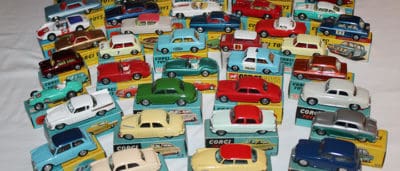 An Introduction to Corgi Toys
In this article I provide a brief history of how Corgi Toys came onto the diecast model scene. The man behind and his vision and when the company Mettoy commenced the brand 'Corgi Toys' and their first model produced in 1956. They became known as 'The ones with the windows' because all their models came with attractive moulded window encasements.
Read More >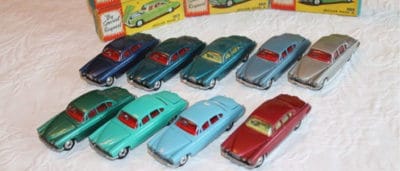 Corgi 238 Jaguar Mk10
This motor car was a classic top of the range Jaguar of its time. Corgi released their model one year after the 1961 release of the real car. I wonder if Corgi had planned to release this model in so many colours! I cannot think of another Corgi car with so many colour variations.
Read More >
Corgi Toys
Corgi Toys were aware that they needed to capture a strong share of the diecast toys market whilst launching with a key selling point as a new brand. Their slogan became 'The ones with windows'. All Corgi toys right from the first model in 1956 was issued with attractive moulded window encasement.
They quickly established themselves for the next two decades as a very innovative brand often the first to provide a new idea whether it was internal seating, plastic moulds or features such as opening bonnets, boots or doors and windows. The innovations became almost endless.
The first model with an opening bonnet was issued in 1960 the 216 Aston Martin DB4 and this, though produced mainly in two bright colours of red and yellow, created a number of variations with casting and wheels changing. Over 1,000,000 units were sold and in 1962 the Aston Martin DB4 Competition finished in green and white was released proving a further 500,000 sales. This model led on to 1965 when the casting was adjusted to make way for the biggest selling Corgi model of all time The James Bond Aston Martin initially in Gold representing the movie 'Goldfinger' but eventually changing to silver and then enlarging the casting for future releases on a similar James Bond theme.