100's of models in stock
Specialists in rare models
Next day dispatch
Run by enthusiasts
New models added weekly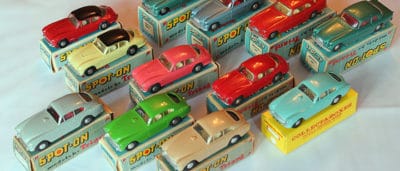 An Introduction to Spot-On Toys
In this article I provide a brief history of how Spot-On Toys came onto the diecast model scene. However, a far more in depth article can be read from 'The Ultimate Book of Spot-On Toys' by Brian Salter which covers in depth the history of Triang and Lines Bros. The Spot-On trade mark was registered to Triang based in Merton Surrey, this was in December 1958 and in the following year 'Spot On Models Lt'd was incorporated on the 12th February 1958.
Read More >
Spot-on Toys
Unique to Spot-On models was that each model whatever their casting size was produced to a 1/42 scale meaning a Double Decker bus was considerably larger than a saloon car and more realistic in size comparison, this had not been a design goal by Dinky or Corgi.
Spot-On were the first to introduce interiors which were introduced in May 1959 from outset. Spot-On has become iconic and there are many collectors nowadays who solely collect Spot On models and nothing else. For the right models' big premiums are paid due to their rarity or demand such as 211 Austin Mini the 195 Rally Volkswagen, Petrol Tankers, Mulliner coach and Tractor.
Due to the limited numbers produced, Spot On I believe will continue to be sought after by collectors and therefore despite only a short production term its legacy will last so much longer.